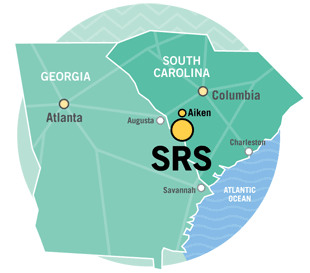 Our Location
Conveniently located near everything the South has to offer
SRS is located in south-central South Carolina and occupies an area of about 310 square miles in Aiken, Barnwell and Allendale counties. It is owned by the Department of Energy (DOE), and the management and operating contract is held by Savannah River Nuclear Solutions, LLC, (SRNS), a Fluor Partnership with Newport News Nuclear and Honeywell.
SRNS employs about 6,000 people. Another 4,000 are employed by other companies and federal agencies. Overall, SRS is a prime contributor to the local economy, generating over $200 million each year in procurements and over $250 million in federal and state payroll taxes.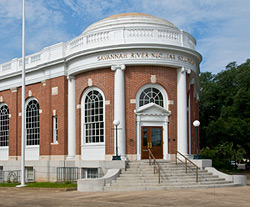 The SRNS corporate and community offices are located in the recently renovated 1912 "Old Post Office" building on the southwest corner of Park Avenue and Laurens Street, in Aiken, S.C. The Old Post Office is an extraordinary example of Jeffersonian classicism and through the preservation efforts of SRNS, the building has a new lease on life, remaining as one of the iconic architectural achievements of historic downtown Aiken.
Having a facility downtown gives SRNS a greater presence in the Aiken community, provides SRNS officials a central location to meet with clients and offers citizens the opportunity to learn more about the Savannah River Site.