Page 7 - SRNS_Today_December_2019
P. 7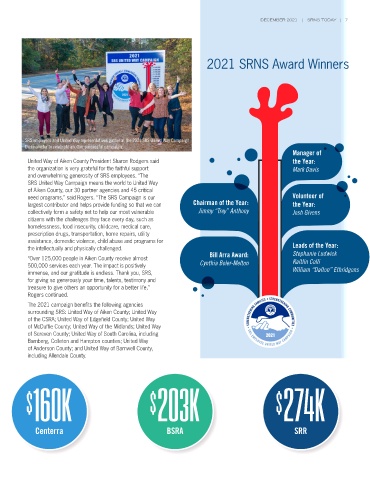 DECEMBER 2019    |   SRNS TODAY   |   7DECEMBER 2019 | SRNS TODAY | 7






                                                                            Dr. Hang of SRNL

                                                                        elected as AIChE Fellow


                                                                        The American Institute of Chemical Engineers (AIChE)
                                                                        recently elected SRNLSenior Fellow Engineer Dr.
                                                                        Thong Hang an AIChE Fellow. Given annually, the title
        SRNS presents $20,000 in donations                              recognizes AIChE members with at least 25 years
                                                                        of experience for their outstanding professional
        to two local social service agencies                            accomplishments and service to chemical engineering.
                                                                        Dr. Hang was recognized for
        SRNS has presented $20,000 to two local United Way partner agencies for   30 years of contributions
        their outstanding partnerships to help CRSA citizens. Area Churches Together   in the chemical process
        Serving (ACTS) and Community Ministry of North Augusta (CMONA) are local   engineering and computational
        social service organizations that work in partnership to help meet the needs   modeling fields.
        of all Aiken County residents, providing assistance with food, clothing, utilities,   SRNL Associate Laboratory
        medication, housewares and furniture. Since 2010, SRNS has contributed   Director, Bond Calloway,
        $86,000 to both organizations. Accepting contributions from Stuart MacVean   a past AIChE President,
        (right) are (from left) SRNS employee and CMONA Board President Bill Swift,   said Hang's expertise
        CMONA board member Nita Swift, CMONA Executive Director Elizabeth Merritt   significantly contributed to
        and ACTS Executive Director Suzanne Jackson.                                            Dr. Thong Hang
                                                                        SRNL capabilities. "Thong's
                                                                        models have led to SRNL being nationally recognized
                                                                        in ion exchange system modeling, especially for
                                                                        the purposes of design, optimization and predictive
                                                                        capabilities in real-world applications," said Calloway.
                                                                        "His expertise has led to cost-savings and increased
                                                                        safety in the nation's cleanup program."
                                                                        Currently, Dr. Hang is involved in the SRS tank closure
                                                                        project, primarily focused on the Tank Closure Cesium
        Tour participants included (from left) Matthew Priester, RCBOE; Yolonda Brown, SRNS Radiation    Removal (TCCR) Process. TCCR is a demonstration
        Control Manager; James Atkins, RCBOE President; Dr. Malinda Cobb, Patsy Scott, Helen Minchew,   project designed to accelerate the removal of
        Leonard Fletcher, all RCBOE; Kenneth Bradshaw, Richmond County Schools Superintendent;   radioactive waste that uses ion exchange columns and
        Kaden Jacobs, Charlar Weigle, both RCBOE; and Jim Marra, Executive Director, Citizens for Nuclear
        Technology Awareness.                                           a special engineered resin to remove cesium from salt
                                                                        waste. Successful operations of TCCR will represent a
        Richmond County BOE tours SRS,                                  major step forward in the liquid waste cleanup mission
        learns about student opportunities                              at SRS and across the DOE complex.
                                                                        He has also served as the 2019 chair of the AIChE
        Members of the Richmond County (Georgia) Board of Education (RCBOE)   Nuclear Engineering Division where his responsibilities
        recently toured SRS to learn more about the site and how best to prepare   included managing plenary sessions and technical
        their students for potential employment at SRS.                 sessions related to hazardous and nuclear waste
                                                                        processing and management.
        "I think this visit is a great first step towards forming a partnership with SRS,"
        said Jimmy Atkins, President, RCBOE. "As members and representatives of the   "It is a great privilege and honor for me to be part of this
        school board, we need to be looking for every opportunity that's out there for   elite group," said Hang. "It is a significant achievement
        our students. The more we know about SRS and its missions, the more it helps   to be recognized and nominated by my peers."
        us as decisions are made in the board room."
        The site tour also included several facilities and SRNL, where board members
        met with employees who graduated from Richmond County schools.
        The Richmond County School System has increased their participation in
        SRS Education Outreach initiatives, including the CSRA Regional Science
        and Engineering Fair school pre-registration and workshop, an A.R. Johnson
        High School environmental field trip and an upcoming tour focused on
        mechanical maintenance careers.